crocodile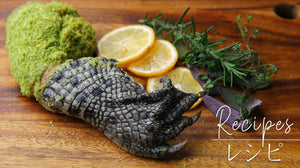 Herbs and parmesan panko crusted crocodile leg 0
This is perfect for those who want to enjoy a low fat and high protein lean meat, enjoy all that crispy, juicy  goodness without all the fat associated to deep-frying ! 
As you can see crocodile is among the leanest meat you can find out there and it would be a shame to toss it into a sea of oil.
We are going to use panko breadcrumb coating to crisp up the exterior  while keeping all the juices inside. Then we use the oven to "fry" the crocodile leg instead of drowning it in oil. And all of this takes about 30 minutes to make!