Easy Roast Pork Shoulder
Easy Roast Pork Shoulder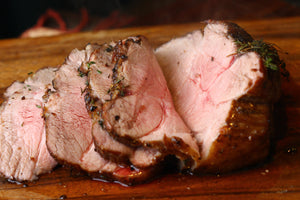 Unlike the more lean tenderloin and chops, pork shoulder is an incredibly forgiving cut of meat. It becomes more tender as it cooks and benefits from a lengthy cook time, so even if it stays on the heat a few minutes too long, you won't suddenly end up with something dry or rubbery.
Spicy, with some hints of Asian flavors, and succulent, this slow-roasted pork is definitely one for your recipe collection. A boneless pork shoulder is covered with a dry spice rub made from Espelette pepper, dried lemongrass, coriander seed, black pepper, thyme.
Here is the list of what you will need.
Espelette pepper

dried lemongrass

Olive Oil

Coriander seed

black pepper

Salt

Potatpes

Thyme

Boneless Pork Shoulder
Check the video and/or follow the recipe 
Steps to prepare it

Gather the ingredients

 

Rub the spices and seasonings on the meat ( Espelette pepper, dried lemongrass, coriander seed, black pepper, thyme, salt). Drizzle with some olive oil. Rub thoroughly. Let it rest for 10-15 mn in the fridge 

Heat a frying pan over high heat. Add the olive oil, Cook each side of the lamb for 2-3 minutes or until golden brown. Searing the meat will add that extra flavor and combined with the action of the salt will keep all that juice in during the roasting process.

Add some potatoes and some sprig of thyme that will serve as bed protecting the bottom of the meat from overcooking and will also baste in that awesome juice that will be slowly released by your roast. Put into an oven preheated to 190 °C / 374°F and cook until temp at the thickest part reaches 60°C / 140°F for that lovely pink color

Let it rest for 10mn before slicing it 

 

Slice to desired thickness and serve with the baked potatoes and gravy (optionnal)