Occitan Roasted Lamb Chump (rump)
Occitan Roasted Lamb Chump (rump)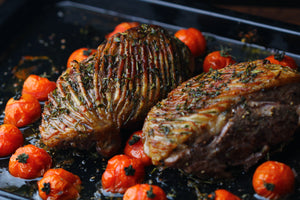 I will be hard for your guests to resist this boneless lamb rump with heaps of Provençale fragrance. 
List of Ingredients you will need.
125ml extra virgin olive oil
1/2 lemon
15g rosemary leaves chopped
15g of thyme
500g vine-ripened cherry tomatoes
500g green beans, trimmed
50g of black olive (pitted and chopped) 
salt and pepper
450g x2 lamb Chump 
Steps to make it
Score the fat with a sharp knife 
Preheat your oven to 180°C. Heat 5cc oil in  frypan over high heat. Frying the lamb skin-side after seasoning it ( salt, pepper and add a sprig of thyme) for about 6min is important to seal the meat, give the roast that lovely golden, impart flavor and most importantly it will render the fat and make it crispy. 

Rub herbs over lamb, placing remainder on a baking tray. Top with lamb, skin-side up, and place tomato around lamb. Drizzle with remaining 100ml oil and season. Roast for 20-25 minutes for medium or until cooked to your liking. Rest, loosely covered with foil, for 5 minutes. 




Blanch the beans in  boiling salted water for 30 seconds, drain and deep in icy water to keep that vibrant green color. Chop the beans ,  transfer to a recipient with chopped olives. Drizzle with the lemon juice and  oil, season and mix.




Cut lamb to desired size, serve with beans, olives and roasted tomatoes.

ENJOY!