Lamb rack
Basil crusted lamb rack - Bright Green Crusted Lamb rack 0
Basil crusted lamb rack
Every cook or wannabe cook all have dreamed of cooking a lamb rack, not my words here Gordon Ramsey words. "It's a chef's dream as he puts it".
To be frank it was also my first time cooking a lamb rack (already made lamb kebab using minced lamb though) and it turned out pretty good.
 So I inspired my self from a recipe of Gordon Ramsey but changed one component of the original dish, mainly I replaced parsley for basil for the green crust.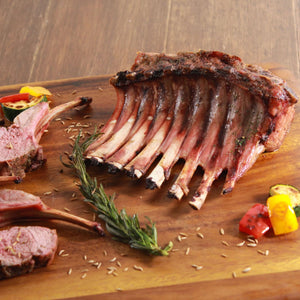 Lamb Rack recipe 0
1)  Bring the lamb rack back to room temperature (after thawing properly)
2)  Season it with spices of your choice
3)  Preheat your oven to 200°C
4)  Put some oil in the frying pan and grill especially the side covered with fat by high flame until it gains color
5)  Put the meat into the oven and grill each side for about 15 min.
6)  After grilling, wrap the meat in aluminum foil and let it rest for 15 min
Recipe by Minako